A Cromarty Dredgie
13 May 2013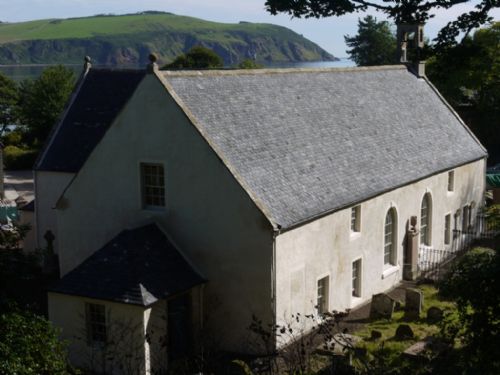 At 10am on Friday 26th April we reburied the bones of eleven Cromarty men and women, and one child, in a quiet corner of the kirkyard. With the exception of the child, we know that they all died before the Reformation of 1560. Their remains were removed during the archaeological investigations, which were part of the restoration of the church [2008 to 2011], and after being studied by experts the time had come to return them to the earth.

One woman had originally been buried inside the church; the child, aged about six, had been buried against the outside of the south wall; and there were ten skulls of individuals whose age ranged from about seventeen to over forty-five (four men, two women, and four whose sex could not be determined). The skulls came from a 'charnel pit' inside the west door, that is a collection of bones which had been gathered together in the past from disturbed burials. Some of the skulls had the marks of roots in the bone, showing that they had once been buried outside the church; and there was mortar in the soil around them, suggesting that the graves might have been disturbed during building work of some kind.

When these twelve people died they would have been buried with a Latin prayer, the Office of the Dead, known to everyone then as the Dirige. This came from its opening words, Dirige, Domine, Deus meus, in conspectu tuo viam meam (Direct, O Lord, my God, my way in thy sight). From 'Dirige' we get the gloomy term 'dirge' but we also get the Scots word 'dredgie', which was what people in Cromarty would have called a wake, when they gathered to remember the life of the deceased and to share a drink in their memory.

On that Friday, when we reburied the bones, Rev Willis Jones conducted a simple and ancient ceremony. We shared a sip of wine from a beaker and then Willis poured a libation into the grave, an offering in memory of the dead. It was both their Dirige and their dredgie.




Support the work of the Scottish Redundant Churches Trust in looking after historic buildings like the East Church.
more »
"This prestigious historic building, which is set within a beautiful conservation town, deserves sensitive repair combined with quality craftsmanship."
Steven Laing, Managing Director of Laing Traditional Masonry Ltd